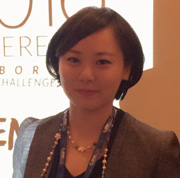 The value of the International MA program in Security and Diplomacy Studies at Tel Aviv University (TAU) is beyond doubt. This program is a perfect combination of theories and practices. Students are given the opportunity to learn from professors who are internationally renown in the domain of security studies as well as ambassadors or government officials who are closely involved in the policy-making circles.
Apart from the program itself, students are exposed to a wide variety of career opportunities. During my time in Tel Aviv, I became a research intern at the prestigious Institute of National Security Studies. I worked in the Chinese program with Ambassador Dr. Oded Eran and Ms. Galia Lavi, and we published an article last October on Sino-Israeli relations under the Chinese One Belt One Road Initiatives in the Institute's quarterly journal Strategic Assessment in both English and Hebrew.
Another fun experience that a few classmates and I enjoyed was to intern at the 7th International Defense & HLS EXPO last June. We learnt about the cutting-edged military and security equipment and technologies as well as the industry. I was even assigned to host a delegation from China North Industries Corporation (NORINCO), the second largest arms sales corporation in China. The real highlights of this experience are of course lots of socials, drinks and selfies.
Recently, my studying and work experience at TAU has once again been proved as a huge asset of mine, as I got an internship opportunity at the Development Research Center of the State Council of the People's Republic of China. I am looking forward to this new adventure.
Sign Up Here for Our E-brochure